Bank Holiday Gallery
Available as Prints and Gift Items
Choose from 2 pictures in our Bank Holiday collection for your Wall Art or Photo Gift. All professionally made for Quick Shipping.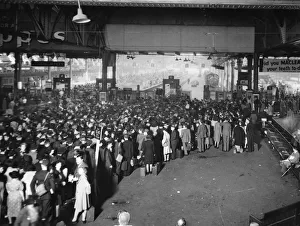 Featured Image
Passengers at Paddington Station in 1943
This image, taken on Saturday 31st July 1943 (August Bank Holiday), shows hoards of passengers at Paddington Station. In 1939 the slogan "Is Your Journey Really Necessary" was introduced to discourage people from travelling within Britain. It was used to remind people to save fuel and allow trains to transport soldiers and war supplies instead. By the summer of 1943 these regulations had been relaxed slightly, which encouraged more pleasure travel. On this day, 34,000 passengers were despatched from Paddington, with 40,000 recorded on the day before. All the trains to the West Country were loaded to capacity and some passengers were left behind!
© STEAM Museum of the GWR