Newton Abbot Station Gallery
Available as Prints and Gift Items
Choose from 2 pictures in our Newton Abbot Station collection for your Wall Art or Photo Gift. All professionally made for Quick Shipping.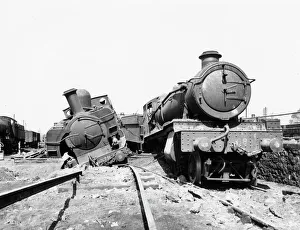 Featured Print
Bomb damage to locomotives at Newton Abbot Station, 1940
On 20th August 1940 Newton Abbot Station was attacked by three German planes. This image shows the devastation that was caused by both bomb damage and extensive machine gun fire. Parts of the station were completely destroyed, along with damage to 15 locomotives, 52 passenger carriages and 22 goods wagons. In total, 60 people died or were seriously injured. The image shows pannier tank No. 2785 attached by chain to Grange Class locomotive, No. 6801, Aylburton Grange, to stop it falling into a bomb crater!
© STEAM Museum of the GWR