Padstow Harbour Gallery
Available as Framed Prints, Photos, Wall Art and Gift Items
Choose from 2 pictures in our Padstow Harbour collection for your Wall Art or Photo Gift. Popular choices include Framed Prints, Canvas Prints, Posters and Jigsaw Puzzles. All professionally made for quick delivery.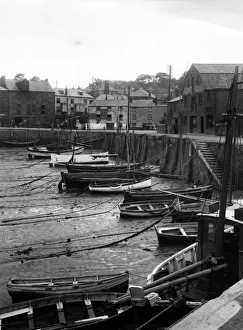 Featured Print
Padstow Harbour, Cornwall, 1927
Atmospheric view of Padstow Harbour, Cornwall, August 1927. The tide is out and a number of rowing boats and small fishing vessels are moored up on the bed of the harbour.
© STEAM Museum of the GWR
1920s, 1927, August, Boat, Coast, Coastal, Cornish, Cornwall, Fishing, Harbour, Padstow, Padstow Harbour, Rowing, Sea, Summer, Town, Village