Pendine Sands Gallery
Available as Framed Prints, Photos, Wall Art and Gift Items
Choose from 2 pictures in our Pendine Sands collection for your Wall Art or Photo Gift. Popular choices include Framed Prints, Canvas Prints, Posters and Jigsaw Puzzles. All professionally made for quick delivery.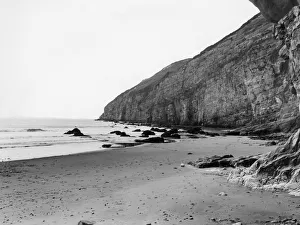 Featured Print
Pendine Sands, South Wales, September 1924
A GWR Publicity view of Ragwen Point on the western end of Pendine Sands on the Carmarthenshire border with Glamorgan, South Wales in September 1924. This 7 mile long beach was the home of historic land speed records and motor racing in the early 1900s.
© STEAM Museum of the GWR
1920s, 1924, Autumn, Beach, Carmarthenshire, Glamorgan, Pendine, Pendine Sands, September, South Wales, Wales