Shell Gallery
Available as Framed Prints, Photos, Wall Art and Gift Items
Choose from 1 pictures in our Shell collection for your Wall Art or Photo Gift. Popular choices include Framed Prints, Canvas Prints, Posters and Jigsaw Puzzles. All professionally made for quick delivery.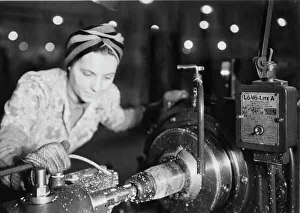 Featured Print
Swindon Works War Work, 22nd January 1942
Female worker machining a 25 PDR shell on 22 January 1942. Munitions work issued by Ministry of Supply.
1940s, 1942, Ammunition, Female, Machining, Ministry Of Supply, Munition, Shell, Swindon, War, Woman, Works, World War 2, World War Ii, Ww 2