Home > Images Dated > 2018 > February > 26 Feb 2018


Pictures Dated 26th February 2018
Available as Framed Prints, Photos, Wall Art and Gift Items
Choose from 2 pictures in our Pictures Dated 26th February 2018 collection for your Wall Art or Photo Gift. Popular choices include Framed Prints, Canvas Prints, Posters and Jigsaw Puzzles. All professionally made for quick delivery.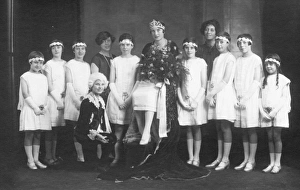 Featured 26 Feb 2018 Print
Railway Queen Mabel Kitson with her attendants 1927
The second Railway Queen, Mabel Kitson, photographed at her crowning ceremony, at the Railway Carnival in Manchester, on 24th September 1927. She is surrounded by her attendants.
Kitson, Mabel, Manchester, Railway Carnival, Railway Queen