Princess Charlotte Gallery
Available as Licensed Images. Choose your image, select your licence and download the media
Choose from 2 pictures in our Princess Charlotte collection for your Wall Art or Photo Gift. Popular choices include Framed Prints, Canvas Prints, Posters and Jigsaw Puzzles. All professionally made for quick delivery.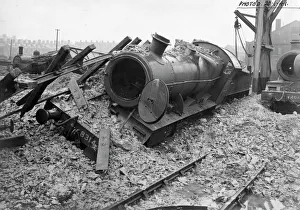 Featured Image
Mogul locomotive No. 8314 with bomb damage in 1941
A 4300 Mogul locomotive, No. 8314, lies amongst the debris following an air raid in Weymouth on 17th January 1941. Star Class locomotive, Princess Charlotte, can be seen to the right of the photograph and has escaped the worst of the damage. The south coast of Britain was easy prey for the German Luftwaffe based in Northern France, and the ports of Weymouth and Portland were prime targets for bombers due to their naval connections.