Home > Images Dated > 2015 > May > 29 May 2015


Pictures Dated 29th May 2015
Choose from 1 pictures in our Pictures Dated 29th May 2015 collection for your Wall Art or Photo Gift. Popular choices include Framed Prints, Canvas Prints, Posters and Jigsaw Puzzles. All professionally made for quick delivery.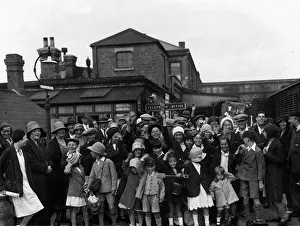 Featured 29 May 2015 Print
Families gather for the annual Swindon Works Trip, 1932
Swindon Works closed down for two weeks every year, and the workers and their families went on a holiday known as the Trip. Complimentary trains ferried families to their destinations.
© STEAM Picture Library 2018 - All Rights Reserved
Day Out, Holiday